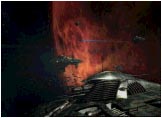 Click Here to view a Quick Time movie about Andromeda...




Contained within this site you will find:
---
And much more to come...
---

Gene Roddenberry's Andromeda ® and all other ensuing related properties are exclusively the trademarks (™) and copyrights (©) of their respective owning authorities. This site is not affiliated with those agencies. No infringement is intended.

Site Design and layout © 2001 Sci-Fi:HQ